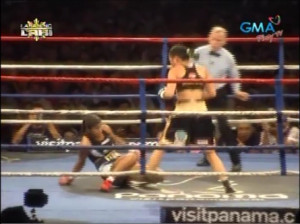 As a female boxer, I am often asked, "Why aren't there women boxing on TV?" or I'll get sympathy remarks like, "America should support women boxers…."  I've dealt with the same conversation for the past 10 years. 
Many people blame the sport of boxing for being sexist, plain and simple.  This has been one perception why women boxers are not on American TV.  But should that stop a woman from asking why?
So last year, I did.
They say, be careful with what you ask for, you may not be ready for the answer.  In this case, I wasn't:  I WAS SHOCKED.  I had dinner with an executive from a major TV network and asked —well, it was my friend who asked—and to our surprise he said, "I've never been pitched the idea."
It was refreshing to hear his positive attitude and I learned that night he was responsible for televising women's MMA, which eventually propelled the breakthrough for female fighters in the UFC.  Obviously, he's not the person who avoided featuring women boxers for the past 10 years.
What shocked me wasn't his answer…it was this question: "Why did it take this long?"  I mean there are many women boxers and advocates who started WAY before I did…couldn't they have done this, too?  Were they scared?!  Were they lazy?!?!  Or even worse, did they just stop trying?!?!?!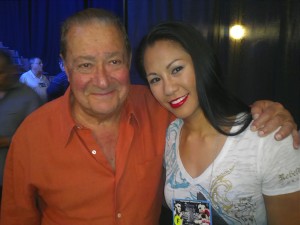 Apathy and fear is a disservice for potential opportunities.  I'm not saying sexism doesn't exist in fight sports but it's ignorant to pull out the "sexist" card, especially if you didn't "break bread" with the people in charge of airing fights.  Blaming others out of callowness is bad business practice and in the end, it accomplishes nothing.
Again, I'm not saying that sexism isn't an issue in boxing–but what sport doesn't have this issue?  What I am saying is that it's time to admit that sexism is NOT the only factor why women boxers fail to be on American TV.
Let's look from a different perspective:  How about the fact that these executives simply didn't know how popular women boxers are internationally?
On a different occasion, I spoke with another TV executive who has been responsible for airing fights over the past 20 years.  This person had NO IDEA who the current women boxing stars are, BUT he's supportive of female fights.  During the past decade, he produced and aired women's MMA; he's just not up-to-date with the status of women's boxing.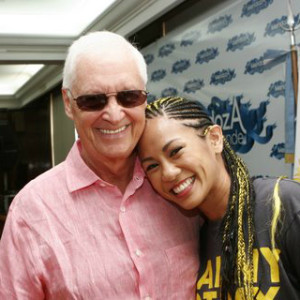 So I began to tell him about some of my experiences.  One example I used is the popularity of boxing in Argentina.  Last year, the biggest event belonged to Argentina's 122lb. boxers Marcela Acuna vs Yesica Marcos, which drew (from many reports) an attendance of over 40,000 people.  These are facts not hype; I can assure you those numbers are real as I fought in that arena (2012) vs Marcos.
Boxing fans in America have seen Argentina's Sergio Martinez, Marcos Maidana, and Lucas Matthysse on HBO and Showtime.  But I bet you didn't know that currently Argentina has more women world champions than men (well, neither did he!).  Right now, the only Matthysse family member who has a  world title is Soledad…the older sister of Lucas.
In 2013,  MMA in the United States was a great litmus test on how influential women athletes are in the UFC.  Yes, these women fighters have a stage and that's great, but it doesn't necessarily translate their popularity worldwide.  On the other hand, boxing has been—and still is—a mainstream sport outside of the U.S.  **For a comprehensive view of female boxing last year, click here:  2013 Female Fighter Awards**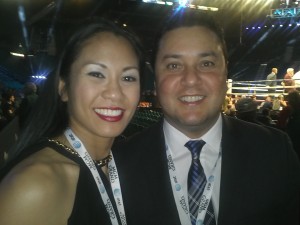 My point is, I'm disgusted and weary about the whole "Boxing is sexist" bull.  It's 2014 and it's time for a positive change.  It's about being a winner, not a whiner. American Women boxers will move forward by promoting themselves and the sport, not from complaints or naive assumptions.  I mean, how many of the American women boxers actually met with top-tier promoters and TV executives to talk about their career?  I did. 
Even Katniss Everdeen had to shoot an apple at the gamemakers in The Hunger Games to catch their attention.  
Now, if a meeting wasn't made because of time, or it's too expensive to travel, blah, blah, blah, then it wasn't meant to be.  Excuses never accounts for success.  If a woman boxer has a goal of fighting only in the USA, then pursue it.  Stay professional, devise an effective business plan and work.  OR do what Serena Williams is doing:  travel for matches in Qatar, Madrid, Italy, France, and England (and this covers only the first half of this year).  It's a lot of work but she understands the BUSINESS of her sport.  OR take the easy route:  QUIT.
"Don't take what people are willing to give you, take what you want." – Al Davis **Go Raiders!**
Fight sports are popular worldwide and many of the star attractions are WOMEN, similar to MMA in America.  Therefore, it's only a matter of time until women boxers make it on American TV.  In the meantime, let's work harder and stay positive this year.
Boxing is incontrovertible.  Malice may attack it.  Ignorance may ignore it.  But in the end, there it is…Enter Women's Boxing in 2014.
"And if you don't know, now you know."
Did you miss the first boxing shows of 2014? This wasn't televised on ESPN…but it was the most entertaining fight that weekend.  Enjoy!Romina "La Bonita" Bermudez (15-2-2) vs "Triple L" Linda Laura Lecca (8-2-1), January 4th, 2014